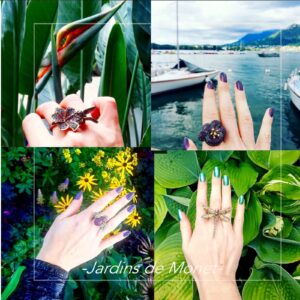 'Jardins de Monet' is a very special collection because of the salt and pepper diamonds used in all of the designs of cocktail rings. Salt and pepper diamonds are unique, rare and raw.
Royal Jungles adores roughness and shades of such diamonds. It gives more authentic, more personal, more edgy yet more sophisticated feel to all pieces of fine jewellery. These are the reasons why Royal Jungles is one of the pioneering fine jewellery brands in Europe to explore salt and pepper diamonds extensively in new designs and be known for it globally.
This is a bit more Nordic approach to design, where charm of mysterious shades of grey, where salty and silky effect of glimpses of shine conquers the bright traditional white shine of diamonds, as we know it. Subtle, rich, charismatic.
***